11th Annual Back to School Night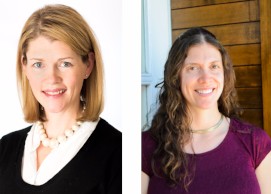 2017 You Count! honorees: Brooke Brown and Aviva Katz, and a CYC outstanding student honoree.
Brooke Brown is the Executive Director of the Carson Foundation, a family foundation focused on improving ECE-12 educational opportunities in the Denver community. Brooke was previously a Spanish teacher at East High School in Denver Public Schools (DPS), and at Thayer Academy in Braintree, MA, where she also served as a Dean and coach. She also co-founded and was Associate Director of Project VOYCE (Voices of Youth Changing Education) in Denver, an organization that works to engage youth in school improvement.
Brooke is the current board chair of Teach For America-CO, the immediate past-chair of the board of the Denver Public Schools Foundation, and a board member and past campaign chair of STRIVE Preparatory Charter Schools in DPS. She also served as board chair of Urban Peak, an organization serving youth experiencing homelessness. Brooke earned a B.A. in Spanish and Political Science from Boston College, an M.A. from the Harvard Graduate School of Education in the School Leadership Program, and a PhD. in Educational Leadership and Innovation from the University of Colorado, Denver.
She and her husband, Bill, are both proud DPS graduates, and are the parents of three young girls. Brooke was honored to receive an Outstanding Alumni Achievement Award from the Board of Education of Denver Public Schools in May 2015.
-------------------------------------------------------------------------------------------------------------------------------
Aviva Katz has been dedicated to helping students in Colorado succeed for over ten years. In her current role as the Denver Public Schools' (DPS) Transitions Manager, she oversees the strategy aimed at improving the DPS graduation rate and decreasing the dropout rate by supporting students and their families in navigating school options and enrolling in settings where they can be successful.
Prior to working with DPS, Aviva taught 9th grade English for five years, including four years in Quito, Ecuador. Starting in 2010, Aviva also played an integral part in the success of CYC. Aviva began at CYC as an Educational Intervention Specialist working at West High School and then transitioned into managing the Educational Intervention program.