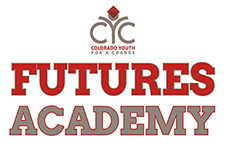 Futures Academy serves students ages 17 to 21, who have too few credits to receive a traditional high school diploma, but are interested in furthering their education and pursuing post-secondary opportunities.
Through a partnership with Colorado Youth for a Change and Aurora Public Schools, Futures Academy provides students with the resources, guidance, and academic instruction that allow them to earn college credits (up to an associate's degree), technical certifications, a GED, or a combination of the three.
Futures Academy combines a competency-based approach to teaching and learning with targeted case management to help students overcome barriers to academic and personal success in a safe and supportive learning community that respects and values the strengths and experiences of each student.

The Student Experience
School hours are 8:45 am to 2:00 pm, Monday through Friday.
We offer instruction in Math, Science, Language Arts, Social Studies, and College & Careers.
We offer small class sizes, small group tutoring, and college support classes.
All students receive personalized support from a Futures Student Advisor.
Students earn scholarships for the Community College of Aurora (CCA) and Pickens Technical College.
By the time a student earns their GED, many students will have earned an industry certification from Pickens, credits from CCA, or a combination of the two.
2018-19 Impact
Served 357 students
191 students were enrolled at the end of the year 
57 students earned their GED Certificate
66 students were concurrently enrolled at the Community College of Aurora or Pickens Technical College 
For more information contact us at 720-949-0253.
Check us out on social media: