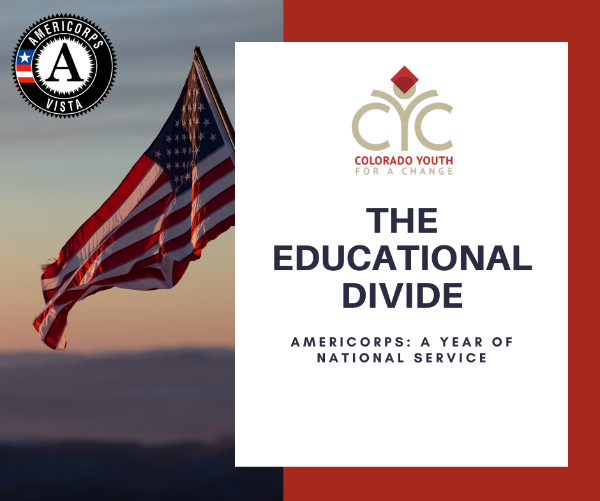 Vista History
AmeriCorps VISTA is a national service program, created by President Johnson in 1965, to help alleviate poverty. VISTAs primary role is to build the capacity of non-profit organizations across the country. VISTA members serve communities across the country, creating a grassroots effort to combat poverty.
What I've Done
My VISTA project built CYC's capacity by restructuring the supportive service system in our client database. The students that CYC works with face so many barriers that get in the way of education, so it is imperative that staff and AmeriCorps members connect them with meaningful referrals. This can include employment, childcare, housing, food, and so much more. Through my VISTA term of service, I led trainings, created multimedia resources, and helped launch a more robust system to help youth navigate the complexities they are facing outside of education.
Importance of National Service
Both of my parents are civil servants and throughout my childhood, they instilled in me the importance of national service. Growing up, my involvement in community service centered around Girl Scouts, of which I was a member from kindergarten through high school. Aside from memories built around a campfire, the most impactful component of my time as a Girl Scout was the time I spent volunteering in my community. Every time I said the Girl Scout Promise at meetings and events, one line in particular spoke to me: "to serve my country and to help people at all times." Although I'm no longer a Girl Scout, this legacy of service and helping others is still an important part of my life.
From the moment I learned about the program, VISTA presented an incredible opportunity to give back to my community. As I wrapped up my undergraduate studies, I still didn't have a clear career path, which sealed the deal for me; I could serve my community as a VISTA member for a year as I decided which career path to take.
What I've Learned
As I approach the end of my term in January, VISTA service has pushed me professionally to grow in many areas: learning to advocate for myself, becoming more flexible, and learning to work with different work styles. In all of these realms, VISTA provided me with ways to address situations effectively. The VISTA project requires buy-in from staff across the organization, which strengthened my flexibility and interpersonal skills. VISTA service in particular, however, reinforced the necessity of self-advocacy in my professional and personal life. The unique structure and goals of VISTA grew these specific skills in a different manner than any other professional position I've previously held.
Post VISTA Plans
One of the major benefits of VISTA service is Non Competitive Eligibility (NCE) in the federal government hiring process. Basically, NCE shrinks the pool of candidates applying for jobs, giving applicants a better chance of an interview; I plan on taking full advantage of my NCE. Once I have a government job, I plan on attending law school (DU has a great part-time program). My goal is to become a government attorney and I'm most interested in civil rights law.
Without VISTA, I wouldn't have grown as much professionally, nor made a decision about my career with this level of certainty. For all recent college graduates, VISTA provides an incredible opportunity to serve their country before jumping into a job or graduate school.
If you know of someone who is interested in serving as a VISTA AmeriCorps member, please contact JessicaL@youthforachange.org.