Does Graduating "On Time" Matter?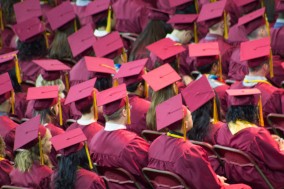 When we started this work, there was a strong and pervasive belief that any student who was 18 should basically get their GED and move on. We found this belief in all sectors—schools, youth service organizations, the courts, and especially human services, where any student who was in foster care was often "emancipated" at that age. Because 18 is the traditional age students graduate, as well as the age youth become legal adults, the belief held that their public education was over, regardless of their progress or potential.
State law, however, says students are eligible for a public education till 21 years of age.
Our first program at CYC, now called Reengagement, spent a lot of time with these students. We would begin by reaching out to them through "dropout" lists provided by the school district. These lists included the student's total credits as well as their date of birth. We quickly learned how to compare the two things and identify best school options before meeting with the student. We also wanted to counter the message of being too old. In our opinion, they had until 21, regardless of what some people said. If the student could feasibly do it, we would present the option of continuing on with school and allow them to decide.   
In fact, we often found that many students were only a semester or year away from graduating and could easily finish with the right support. After making contact with the student, and discussing their school options with them, we would put a meeting together with everyone involved and make the case for staying in high school, if it was the best option. Inevitably, someone would say, "But the youth is 18?"
We don't hear that as often now. We think that's a huge win for both the youth we serve and our communities. Yet it raises an important question. Is graduating in four years important? It is. It's important to have a standard—a way to evaluate progress across the state and the nation. Likewise, four solid years of high school level education is sufficient for any post-secondary degrees or certificates. Yet for a student facing serious challenges in their life like homelessness, court involvement, parenting or being in foster care, an extra year could mean a world of difference. In those cases, and many others, finishing exactly "on time" becomes more of a stigma or a measurement of failure than an accountability measure for the school.
The question about graduating in four years recently came up because of some news that made headlines. An article in The Gazette wrote Colorado schools have the 7th worst graduation rate in the nation. As explained, "Colorado's four-year graduation rate that year [2014-2015] was 77.3 percent, compared with the national average of 83.2 percent."
The article was citing a report from GradNation whose goal is to "Increase the nation's on-time high school graduation rate to 90% for the class of 2020." Once again, this a good goal, and there is nothing wrong with this goal as a measure of accountability for schools. It is something worth pursuing and tracking carefully.
The Colorado Department of Education was quick to respond that when looking at extended graduation rates—five and even six-year graduation rates—Colorado has experienced/seen significant gains. For example, the on-time or four-year graduation rate in Colorado for the 2013-2014 school year was 77.3 percent. Then it jumped to 81.7 percent for the five-year graduation rate, and 84.3 percent for the six-year graduation rate. That's a seven point difference gained over a two year period. Until all students graduate, we have a lot of work to do. Yet the data suggests that many students do finish with a diploma or a GED in Colorado. Some just need a little extra help and some time to get there.
In fact, the Grad Nation report cites, as a policy recommendation, that states should be required to report five and six year graduation rates as a way to keep "off-track students in school and re-engage those who may have left the system." In other words, we should be intentional about understanding who these students are. Where do they graduate from? Can we learn anything else about these students?
As an organization often helping students well beyond the four-year mark, we agree. We also think Colorado has done a good job of collecting this information and making it available for people to see. Colorado is ahead of the curve here. The information helps inform our work.
But most of all: We think students deserve the opportunity to finish and that our communities benefit in the end.