Reengaging Out-of-School Youth in Rural School Districts: What do we know?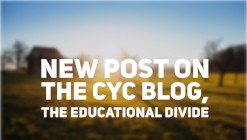 Some school districts serve thousands of students, while others serve hundreds, or less than a hundred. Some school districts have multiple elementary, middle, and high schools, while some have one for all grades. Some school districts have superintendents with very narrow and defined roles, while some have superintendents who coach the basketball team. It's probably safe to say, no two school districts are exactly alike.  
Yet as we continue to get to know and understand the state, and look at students who dropout from that perspective, the more we come to understand both the differences and the similarities. The differences, moreover, are often hard to understand because they can't be compiled into a statistic easily. Differences require conversation and a lot of local perspective. Yet we have found similarities too. One similarity we think is true is why a student drops out.
For example, the literature usually reframes these reasons according to the following categories or factors: (1) pushout, (2) pullout and (3) fallout. A student who is pushed out encounters difficult or adverse circumstances within the school. This could mean a lack of school support, or an especially punitive attendance policy. A pullout factor could be parenting, the need to obtain full-time employment or challenges within the family. The third factor, fallout, occurs when a student does not make adequate progress and is behind academically. As a result, the student can become disillusioned or does not fully understand the implications of leaving school.
While these are general categories, we have consistently found them to be true. We also think that reframing it this way, and placing the responsibility across systems and communities, is also true of any youth. 
An interesting study, called "Rural and Urban High School Dropout Rates: Are they Different?" shows that rural and urban students are not that different in terms of achievement and that "gender, family assets, the presence of biological parents, and maternal attributes appear to be the main determinates of graduation." In other words, when those attributes are the same, rather the student lives in a rural or an urban community, graduation and dropout rates are very similar.
The Colorado Department of Education, moreover, recognizes five different settings:
·         Denver Metro: Districts located within the Denver-Boulder standard metropolitan
·         Urban-Suburban: Districts which comprise the state's major population centers outside of the Denver metropolitan area and their immediate surrounding suburbs.
·         Outlying City: Districts in which most pupils live in population centers of seven thousand persons but less than thirty thousand persons.
·         Outlying Town: Districts in which most pupils live in population centers in excess of one thousand persons but less than seven thousand persons.
·         Rural County: Districts with no population centers in excess of one thousand persons and characterized by sparse widespread populations.
The last three (outlying city, town and rural county) when taken together, represent about 17 percent of the student population, whereas about 54 percent of all students live in the Denver Metro Region, 27 percent live in the urban-suburban region, while 2.7 percent fall into an "other" school district, something like an online school.
Interestingly, when you compare the number of school districts across the state, a very different picture emerges—as anyone familiar with Colorado knows. 84 percent of all the school districts are in rural areas. Conversely, only 16 percent of all school districts are not rural! Many of the larger counties have one or two school districts, while rural counties often have multiple school districts miles apart from each other.
As far as students go, especially among those who dropout, the general trends found through the state, the entire country, and in rural areas are generally the same. For example, across Colorado, 59 percent of the dropouts are male whereas 41 percent are female. In rural areas, the number for males is actually a little higher with an average of 64 percent and 36 percent for females.
Another consistent trend is that students of color are over-represented within the dropout population. For example, students of color in Colorado make up 45.7 percent of all students, whereas they make up 65 percent of the dropout population. This difference is most noted in the Metro Denver area where students of color are 49.4 percent of the population and 72 percent of the dropout population. While not quite as much of a difference, but still concerning, students of color within rural areas are 38 percent of the student population, and make up half or 50 percent of the dropout population.
While it is helpful to look at data and draw some conclusions, it is equally important to understand the entire community picture. Looking for commonalities is helpful, but so is understanding the local perspective. The data does tell us some things. When it shows similar trends across the state and the nation, it suggests larger structural concerns. Yet the data ultimately needs to be informed and interpreted by people from those communities with the goal of helping all youth graduate on time. Indeed, the solutions won't come from the data, but from what people can do.