The Power of Communication: CYC Spanish Classes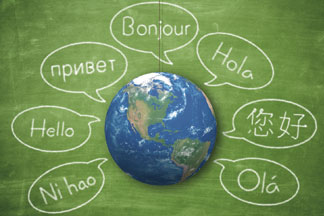 CYC has been offering Spanish classes to staff. The classes are a hour a week and the teacher comes directly to our Denver office. There's homework. It's a great opportunity for everyone and something the organization has been wanting to do for a long time. Ability levels vary, we have some beginners as well as some more advanced people—the "took it in college" group.
On the one hand, it's personally enriching to learn and practice a language, while on the other it is part of our effort towards our commitment to inclusion—something we truly value. And, as anyone who has studied a language can attest, we learn about culture as well.
When asked about the Spanish classes, America, a native Spanish speaker, mentioned that it's a great idea and an important gesture. "If I try and you try, we can come together." Robert, another native Spanish speaker, said "It's important, especially if you truly want to serve the community." Both America and Robert help students within our Reengagement program where making quick connections is the key to success. Being able to pick up a conversation is critical to reengaging youth in their education.
We encounter a lot of Spanish speaking students and families in our work. The Pew Research Center, for example, finds that 21 percent of the population and 31 percent of all students are Hispanic/Latinx in Colorado. This means that Colorado ranks number eight in terms of size of its Hispanic/Latinx population.  As far as the Spanish language, the Pew Research Center said 53 percent speak more than English at home, which means a little more than 10 percent of the total population of Colorado speak one or more languages other than English at home.
Costilla County has the highest percent of Hispanic/Latinx at 64 percent. Now here's an interesting fact, Costilla County is also home to the oldest city in Colorado—in the European sense: San Luis. A cathedral was built in the main square in 1851. As you might know, the first European settlers came to Denver in 1858. The valley also gets its name from here.
As far as larger counties go, Pueblo has the highest rate of Hispanic/Latinx at 43 percent. Once again, not surprising considering the fact that the Arkansas River, which runs through the city of Pueblo, was once the border with Mexico. In terms of overall numbers, Denver has the highest amount of Hispanic/Latinos than any other county with 204,375. The four metro Denver counties, Adams (186,464), Arapahoe (116,053), Jefferson (84,798) along with Denver are home to about 52 percent of the state's Hispanic/Latino population.
When we look at some of our own data, our Futures Academy in Aurora, has found that about 25 percent of their students are ELL or English Language Learners.
While it's clear that a significant proportion of people speak Spanish in Colorado, we're also focused on Spanish because it's an important rule for youth development: meet the youth where they are at. This includes their families too! As Nick, CYC's Reengagement Program Manager explained, "I'm new to Colorado and I have zero experience with Spanish. When I first started working here, we did about 10 home visits. I was paired with Robert and five of those home visits were done in Spanish."
Another important reason is that the school system can be complicated. It can be especially complicated for someone facing language barriers. Our native speakers within the organization have all mentioned that while there are more resources than before for Spanish speaking families, the forms and the web pages all read like formal, rather than conversational, translations. Having staff interact and help families understand the educational choices, as well as the expectations for their child, can be tremendously helpful. 
When we think about all the different kinds of trainings we take on—youth culture, mental health, the court system, human services and anything school related—it becomes clear that Spanish is equally important. Being able to meet both the youth and their families where they are at is an important value to us. It levels the field and allows a truly collaborative relationship to emerge.