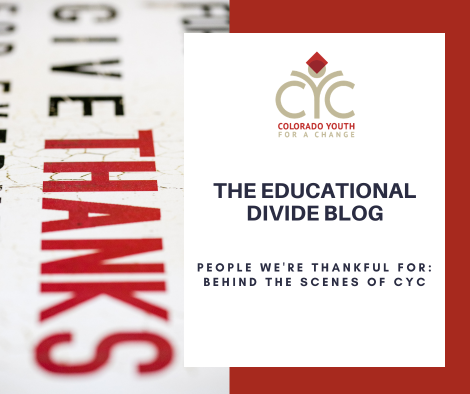 Students – and their success in school – are our primary focus at Colorado Youth for a Change (CYC). Yet it takes many amazing people, working behind the scenes, to help us thrive in this endeavor. From board members to volunteers, from our staff to school district partners, they humbly provide important support to our organization and the students. We are extremely grateful for each and every contribution.
In this time of giving thanks, we would like to highlight some of these special people in this month's blog post: Clare Wilson, Board Chair; Twanisha Parnell, Director of Finance; Becky Manning, Englewood Schools Partner; Robert McBride, CYC Volunteer.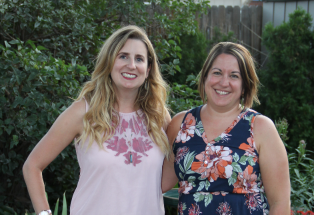 CLARE WILSON – Board Chair
Director of Finance and Assistant Treasurer – PDC Energy
I am originally from Oklahoma, but have lived in Denver the past 15 years and consider it home. 
I first learned about CYC about six years ago through my friend Matt Padilla who was a board member at the time.  I attended Back to School night that year and was impressed with CYC and their dedication to solving Colorado's drop out crisis, and joined the board shortly thereafter.   I have very much enjoyed my time on the CYC board and seeing the organization and its mission and programs continue to grow and reach out to more schools and communities.
Why is this work so important to you and to the community?
I was fortunate enough to come from a family who valued education and had the resources and support to aid me in my educational journey.   But I know that this is not the case for many of today's youth.   Being a teenager is already an emotional, stressful time, and I can't imagine what it would be like not to have a place to sleep at night and worrying about where your next meal might come from.    I love that CYC helps to ensure that education is available to all youth regardless of circumstance and sets them up for solid success and support in the future.
How have you engaged PDC Energy with CYC?  
PDC Energy has been a sponsor of Back to School night since 2016.   In addition to being a sponsor, PDC supports students receiving technical certifications through Futures Academy, as the oil and gas industry is always looking to employ those with technical backgrounds.  I think that there needs to be more awareness overall about the opportunities available to graduates with technical opportunities in the oil and gas field.
What inspires you to continue to help? 
Every year at Back to School Night when I hear the students' success stories I find myself encouraged and reenergized to support CYC's mission and proud to be a board member.  I encourage anyone who has not attended this fun night of comedy to attend next year!
What are you thankful for this year? 
I am fortunate enough to live in a great city with supportive friends and family.   In addition, I have been very fortunate to have had many opportunities and experiences granted to me this past year, and for that I am thankful.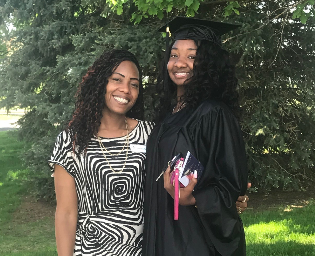 TWANISHA PARNELL – Staff Member
Director of Finance – Colorado Youth for a Change
I've been volunteering in the nonprofit sector since I was 9 years old. To now work in the nonprofit sector is extremely rewarding. Since joining Colorado Youth for a Change (CYC) 11 years ago, we've seen the Colorado dropout numbers nearly cut in half. But with over 10,000 students still dropping out each year, I am more determined than ever to continue my work. 
Last spring I watched a student I've been mentoring at CYC's Futures Academy program in Aurora walk across the stage to get her GED. After dropping out of school, beating cancer, and having a child, CYC helped her get back in school. She's enrolled in the Community College of Aurora and wants to be a motivational speaker. I tell her that she already holds that title in my book.
How do you braid the mission of CYC with your role as the Director of Finance?
I'm a people person who cares deeply about the mission of CYC, so I approach the world of finance with an open door policy. I have worked to bring our IT and Finance services in-house, and I meet with staff regularly to dispel finance myths and promote transparency.
I also make an effort to volunteer with our programs and share with our students my own experience and speak words of encouragement.
What motivates you?
I started with CYC ten years ago as the office manager, moving my way up in the organization to Business Manager and most recently as the Director of Finance & Administration. I'm inspired to work hard for an organization that has invested me and provided opportunities for advancement that not only support me but also my two children.
As someone who left school early, returning later for a GED, I connect with the youth we serve and understand the struggles they face each and every day. As a teen mom, people assumed I would never graduate, go to college, or provide for my family on my own. But I've overcome barriers to find success and know that it is possible for all the students we serve too. Getting my education and proving my value in each job I've held have helped get me to where I am today. 
What inspires you to continue this work?
Growing up in the heart of Five Points in Denver in the early and late 90s I witnessed so many things: gangs and gang violence; individuals using drugs in alleys or on corners as I walked to school; shootouts in the early morning; and even being bullied while attending middle school.
It would have been easier to fall victim to a lifestyle of crime, but I chose a healthier path.
Now in 2019, my daughter is 20 and graduated, my son is 14 and an honor roll student, and I have a career that I am proud of. Despite all odds, I made it and CYC helped me to achieve the dreams and goals that I always knew I could.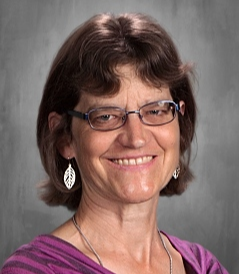 BECKY MANNING, LSW – School District Partner
Student Engagement Specialist, District Homeless Liaison, Interagency Team Coordinator – Englewood Schools
This is my fifth year in Englewood Schools and I've been working in education for about 18 years.  I started here with 100% of my focus on truancy intervention; gradually that's expanded to include work on attendance issues in general and dropout prevention and recovery. 
I am the district liaison to CYC and supervise CYC AmeriCorps members at Englewood High School from a district perspective.  I've been impressed by CYC.
Because my own work is primarily with students who aren't in school (!), my district-wide caseload and that of members at Englewood High School only sometimes overlap.  However, we share the goals of improving attendance and grades and of doing what it takes to eliminate barriers.  I appreciate that my role includes getting to hear the success stories that members have made possible for our students.  I am especially grateful for our members' flexibility and resilience both in terms of making staff aware of them as resources as well as making due with the space that the school has available for them.
Why is this work so important to you and the community?
Dropout prevention and recovery have local economic ramifications.  Englewood is a small community, and neighbors (individuals and businesses) are supportive of our efforts.  In addition to our collaboration with CYC, we'll be working with the Colorado Department of Education to strengthen our processes and systems in these areas.  We are also working with CYC and their AmeriCorps VISTA program to help manage our dropout recovery. I look forward to seeing how all our efforts progress this year.
What inspires you?
I am inspired every day by students and families who are making things work, making education a priority, in spite of life situations that might cause others to give up.  I'm inspired too by community partners who are willing to enter into conversations about how we can not only continue to support our students and families but also to collaborate, increasing what we're able to do as a collective effort.
What are you thankful for this year?
This school year I am especially thankful for the Principal of our alternative high school, Dr. Bobbie Skaggs, who heard of our need for a community resource "closet" and gave us space, and for our Superintendent, Dr. Wendy Rubin, who used part of her budget to purchase some badly-needed clothing racks for that resource space.  Our resources (hygiene supplies, laundry detergent, clothing, school supplies, winter coats and even bicycles) are available to any and all district students in need, which of course includes those on the caseloads of our CYC AmeriCorps members.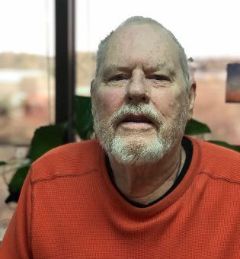 ROBERT MCBRIDE – Volunteer
Student Therapist/Counselor at Futures Academy and Author
Robert McBride began volunteering at CYC's Futures Academy program four year ago. After leaving his counseling practice, Robert felt compelled to help his community. "I want to help save people from going through what I went through when I was younger." Because he left school at age 16 to work in construction, and struggled to read and write the entire time he was in school, he understands the challenges that students encounter on their educational journeys.
"Has anyone ever told you that you're valuable and loveable?" According to volunteer Robert McBride, too many of our CYC students answer no to this question, because somewhere along the way they were let down and became disconnected.
In addition to providing one-on-one support to students, Robert has been instrumental in leading staff training around trauma. As he points out, it is hard to study and proceed forward in school when one's fight or flight response is on. Trauma can be experienced in a variety of ways, like from a physical accident or from a loss, abandonment, or neglect.
"CYC's Futures Academy strives to provide a safe space where students can connect to the school community and feel a sense of belonging. This enables students to move out of fear activated states of hyperawareness and concentrate on their learning. Staff members build authentic, trusting relationships with students so they can best meet the needs of the student on any given day." Joy Smith, principal
When he asks students why they are here at Futures, most say because they care about their education. But they need a secure base to move forward. "With an insecure base, you look outward instead of focusing on yourself. And when youth don't trust others, they can't trust themselves."
What keeps Robert engaged? "Seeing students making positive changes means I am making a difference."
To read more about Robert's work and research, please click HERE to read "Labels Matter."