Colorado Youth for a Change (CYC) is solving Colorado's dropout crisis. Learn more.
Students served last year

Enrolled back into school last year

Received diploma or GED last year

Reading Corps students exceeding one year of growth
CYC's programs support students who are showing early warning signs of dropping out or have left school altogether, helping them forge meaningful paths forward through education.
Read more.

Join us in impacting the lives of thousands of children and youth each year by attending an event and volunteering your time.
Sign Up.

Join CYC for a year of service and be the greater good. Learn more or apply to one of CYC's AmeriCorps programs: Colorado Reading Corps (serving in elementary schools) and Corps for a Change (serving in high schools).
Learn more.
News & Events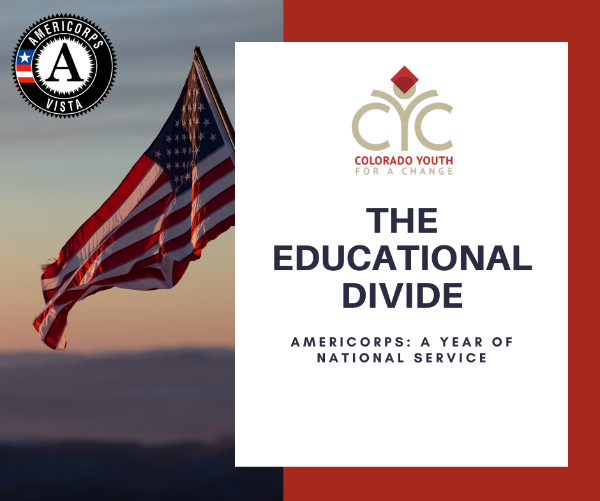 AmeriCorps VISTA is a national service program, created by President Johnson in 1965, to help alleviate poverty. VISTAs primary role is to build the capacity of non-profit organizations across the country. VISTA members serve communities across the country, creating a grassroots effort to combat poverty.
At the end of each school year, Colorado Youth for a Change collects and analyzes the data from our programs. This information is used to evaluate achievements and adjust practices to better serve our youth. Here is a snapshot of the 2018-2019 school year. Thanks for making this important work possible with your support!
My high school had a rule that if any student was tardy 3 or more times, they would receive detention. I was always a rule follower and avoided trouble at all costs, but sometimes I was 5-10 minutes late because of my carpool. I remember actually feeling angry about the rule, it's such an extreme consequence for teenagers who had trouble getting to school by 7 am each day. Here's how I solved my problem: on any day I was going to be late, I would just skip school entirely to avoid detention. The result was that instead of missing 5 -10 minutes of homeroom, I would miss a full day of instruction. I never got detention, but I also missed enough days of school that my grades suffered. Nothing about that experience was restorative. I didn't grow as a person, and the only thing I learned was that high school was another "us vs. them" kind of place.