Colorado Youth for a Change (CYC) is solving Colorado's dropout crisis. Learn more.
Students served last year

Enrolled back into school last year

Received diploma or GED last year

Reading Corps students exceeding one year of growth
CYC's programs support students who are showing early warning signs of dropping out or have left school altogether, helping them forge meaningful paths forward through education.
Read more.

Join us in impacting the lives of thousands of children and youth each year by attending an event and volunteering your time.
Sign Up.

Join CYC for a year of service and be the greater good. Learn more or apply to one of CYC's AmeriCorps programs: Colorado Reading Corps (serving in elementary schools) and Corps for a Change (serving in high schools).
Learn more.
News & Events
Students – and their success in school – are our primary focus at Colorado Youth for a Change (CYC). Yet it takes many amazing people, working behind the scenes, to help us thrive in this endeavor. From board members to volunteers, from our staff to school district partners, they humbly provide important support to our organization and the students. We are extremely grateful for each and every contribution.
In this time of giving thanks, we would like to highlight some of these special people in this month's blog post: Clare Wilson, Board Chair; Twanisha Parnell, Director of Finance; Becky Manning, Englewood Schools Partner; Robert McBride, CYC Volunteer.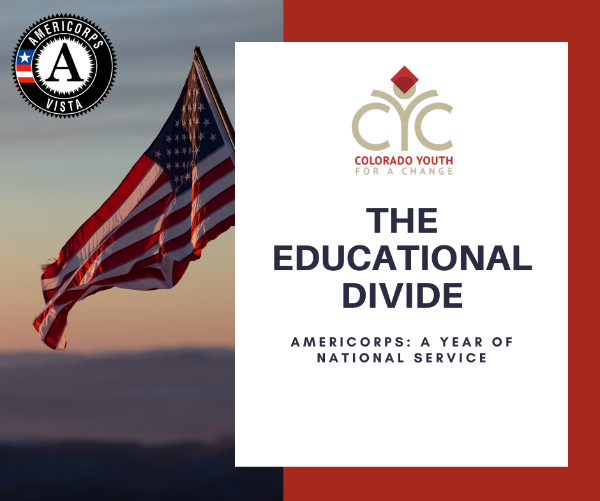 AmeriCorps VISTA is a national service program, created by President Johnson in 1965, to help alleviate poverty. VISTAs primary role is to build the capacity of non-profit organizations across the country. VISTA members serve communities across the country, creating a grassroots effort to combat poverty.
At the end of each school year, Colorado Youth for a Change collects and analyzes the data from our programs. This information is used to evaluate achievements and adjust practices to better serve our youth. Here is a snapshot of the 2018-2019 school year. Thanks for making this important work possible with your support!